Insights and Strategies
Inflation Running Hot Heading Into 2022
It's been almost two years since the onset of the pandemic, with COVID-19 as the primary driver of macroeconomic and financial performance across markets and asset classes globally. The path of the global economic recovery has remained uneven to date, which has largely depended on access to and the administration of vaccines, which, until recently, have been concentrated mostly in advanced regions of the world. Investors and consumers have had to contend with several ongoing issues, including the rise in prices for everyday goods. One thing that has been missing from explanationsregarding the path of inflation, which we have attempted to address in past commentaries, is how long these pricing pressures would last. While inflationary pressures have run hotter and persisted longer than most would have expected, we believe these pressures will probably remain above trend in the New Year, with several inflationary impulses (e.g., supply chain bottlenecks, base effects, commodities prices, etc.) softening as we move further into 2022.
However, that said, while recent data points and headlines would suggest a potential repeat of the runaway or hyper-inflationary environment like in the 70s/80s, we do not view this as our base case. It is difficult for us to envision a decade-long period of sustainably higher inflation (+3.0% year-over-year), especially against a backdrop of policy makers tightening/removing stimulus measures aimed at reducing inflationary pressure, including demand driven pressures.
Compared to last quarter, current projections suggest inflation will recede at a slower pace in 2022. Globally, recent forecasts show only a marginal reduction in consumer prices in 2022 relative to 2021 (-0.2% to 3.5%), with inflation expectations suggesting a path towards historical trend beginning in 2023. We caution that uncertainties remain and the risks to our views are to the upside rather than the downside, and suggest investors position their portfolios accordingly for the years ahead.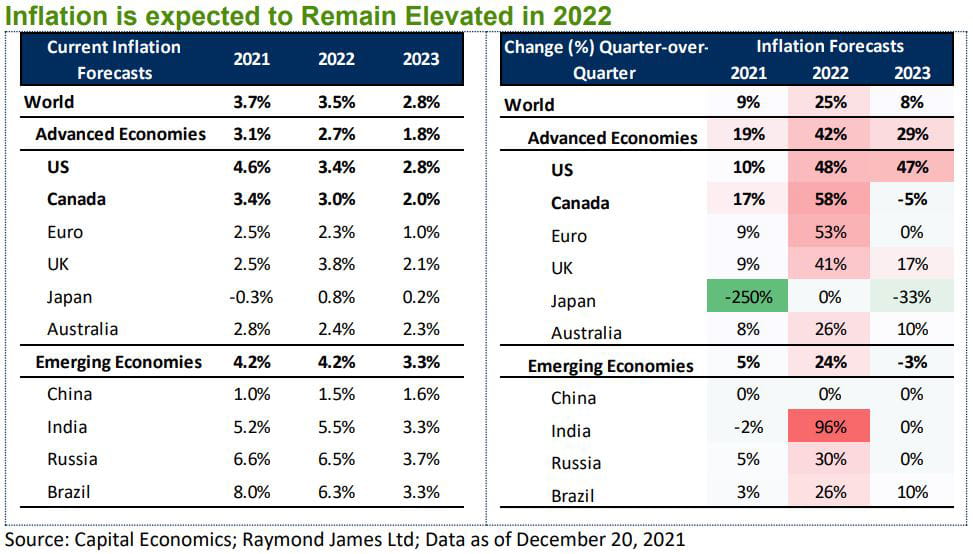 Click here to enlarge